The Mediterranean sun, the variety of scenery and the quality of reception is a way of life and makes Languedoc- Roussillon a rich and generous land which continues to attract and captivate a number of visitors from all around the world.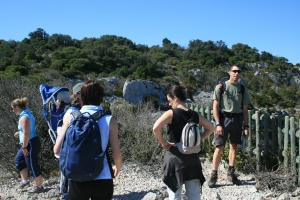 On the sea front or in the heart of the countryside, traditions of togetherness and trading are part of the regions assets. Traditional festivals, famous wines, game of bowls, outdoor markets and assortment of delicacies. This good way of life reflects in the local crafts, fresh produce, artistic inspirations of great value and variety that we can see in the heritage and through the number of famous people that are very passionate about this welcoming land.
Visit Montpelier and enjoy the city adventure and you can discover the charming town of the south! Or visit Causses and Cévennes between visiting old ruins and relaxing in the land of cheese and hiking. Maybe you would prefer the Canal du Midi, a calm land between vines and shrubbery, visit the shrines on the path of The Way of St James! History mixes with traditions, there is the choice of Nimes, Carcassonne or Narbonne, discover the Site de Pont de Gard, the Cathar Castles, Vauban fortifications, the medieval city and many more!
Discovery activities, outings and leisure…